What Are the Best Places to Visit in Baja California Sur?
Nestled at the southern tip of the Baja California Peninsula, Baja California Sur is a mesmerizing destination that offers a blend of natural wonders, cultural riches, and adventurous escapades. But what are the best places to visit in Baja California? Keep scrolling to find out our top 10!
This area offers a diverse range of attractions, from breathtaking beaches and vibrant marine life to charming colonial towns and rugged desert landscapes. Join us to embark on a journey to discover the top destinations in Baja California Sur, including the iconic Los Cabos.
At High Tide Los Cabos, we love welcoming visitors from all over the world to our beautiful hometown. Join us on our adventure tours in Los Cabos that include surfing, paddle boarding, snorkeling, desert exploration, and more! Just get in touch to start your vacation experience.
But, for now, let's discover the 10 best places to visit in Baja California Sur, a region full of wondrous aquatic experiences and marine life, great Mexican food, and cultural history.
1. Surf the Waves at Los Cabos, Baja California Sur
At the southern tip of the Baja California Peninsula, Los Cabos is a top tourist destination. Divided into two main towns, Cabo San Lucas and San José del Cabo, this region offers a unique blend of experiences.
Cabo San Lucas is known for its vibrant atmosphere and energetic nightlife. Make sure to visit the famous rock formation, "El Arco," or "The Arch," where the Pacific Ocean meets the Sea of Cortez. You can visit this beautiful destination on our adventure tours as well as the San José.
In contrast, San José del Cabo is a charming colonial town with colorful streets and art galleries, offering a more relaxed and artsy vibe.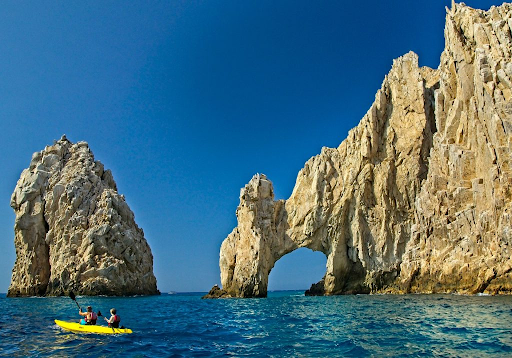 2. Visit Calming La Paz, Baja California Sur
Located on the eastern coast of the peninsula along the serene Sea of Cortez, La Paz is a tranquil oasis. Explore Espiritu Santo Island, a UNESCO World Heritage Site, where you can swim with playful sea lions and snorkel in crystal-clear waters.
Balandra Beach is another must-visit spot, renowned for its turquoise waters and picturesque rock formations. You can relax on the beach, go kayaking, or simply enjoy the breathtaking views and let the calm vibes wash over you.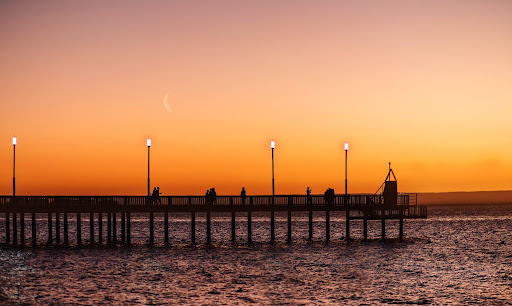 3. Relax in Loreto, Baja California
Loreto, a historic seaside town, is a hidden gem in Baja California. The Mission of Our Lady of Loreto, a colonial church dating back to the 17th century, is a prominent landmark and a testament to the town's rich history.
Stroll Loreto's cobblestone streets, indulge in local cuisine and soak in the relaxed ambiance. For nature enthusiasts, a visit to the Sea of Cortez Marine Park is a must. Snorkel or dive to discover the vibrant marine life, including colorful fish, dolphins, and even whale sharks.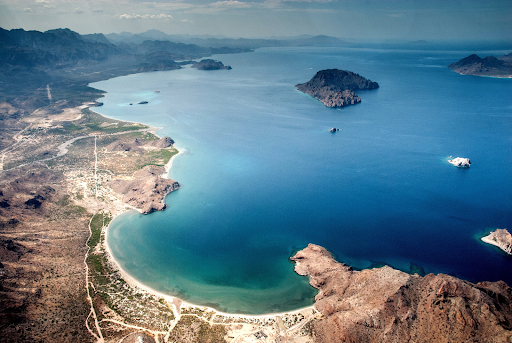 4. Dive Into Cabo Pulmo National Park, Baja California Sur
For nature lovers and divers, Cabo Pulmo National Park is a must-visit destination. Just 60 miles away from Los Cabos, the park is home to the oldest coral reef in North America, this marine sanctuary boasts an incredible diversity of marine life, making it a UNESCO World Heritage site.
Snorkel or dive to encounter tropical fish, majestic manta rays, sea turtles, and even bull sharks. Experience the incredible biodiversity of this marine sanctuary and appreciate the importance of conservation efforts.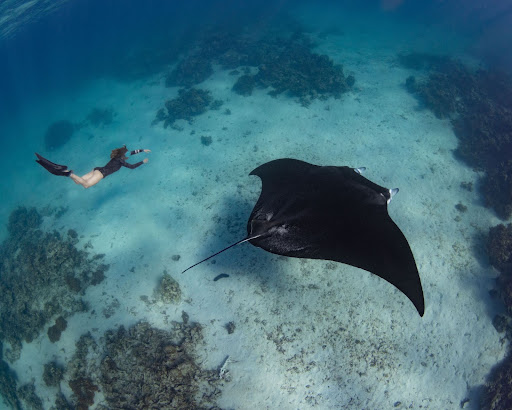 5. Enjoy the Charming Todos Santos, Baja California Sur
Nestled between the Pacific Ocean and the Sierra de la Laguna mountains, Todos Santos is an artistic haven and a surfer's paradise. This quaint town is home to numerous art galleries, showcasing the works of local and international artists.
Stroll through the charming streets, visit the historic Mission of Todos Santos, and soak in the bohemian ambiance. With nearby beaches like Playa Los Cerritos for a surf lesson, where surfers can catch waves and enjoy the laid-back coastal vibe.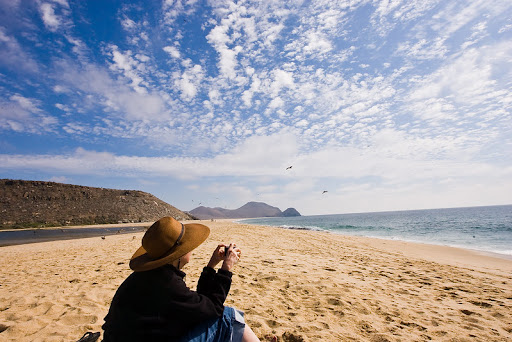 Todos Santos Beach, (Source | License)
6. Admire the Wonders of Isla Espíritu Santo, Baja California Sur
Situated just off the coast of La Paz, Isla Espíritu Santo is a pristine and uninhabited haven for nature enthusiasts. The island is a treasure trove of diverse flora and fauna, including the charming sea lions that inhabit its shores.
Travel by boat from La Paz to this beautiful spot where you can take guided kayak tours, snorkel in the turquoise waters, and marvel at the sea lion colony up close. Tick off another UNESCO World Heritage site on your trip to Baja California Sur!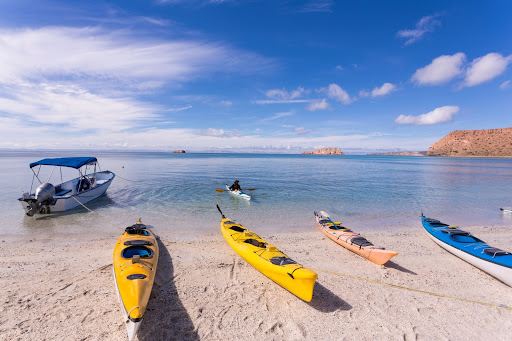 7. Unwind in Bahía Concepción, Baja California Sur
One of Baja California Sur's hidden gems, Bahía Concepción, is a stunning bay dotted with beautiful beaches and crystal-clear waters located in the central-eastern part of the Baja California Peninsula.
Relax on the shores of Playa Santispac or Playa El Coyote, where the tranquil ambiance allows for the perfect beach getaway. Kayaking, paddleboarding, and fishing are popular activities in this slice of paradise.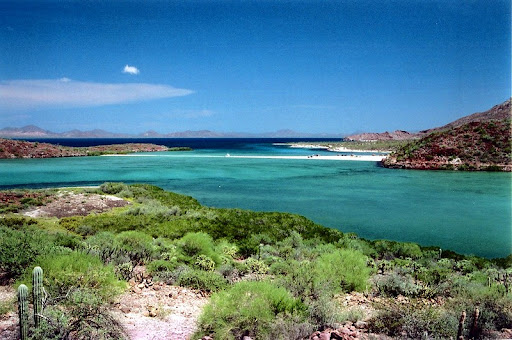 One of the beaches in Bahía Concepción (Source | License)
8. Meet Gray Whales at Magdalena Bay, Baja California Sur
Every winter, Magdalena Bay transforms into a playground for migrating gray whales seeking warmer waters. This natural spectacle attracts travelers eager to observe these gentle giants up close on guided whale-watching tours.
The experience of interacting with these majestic creatures is truly awe-inspiring and unforgettable. It's a bit of a trek from Los Cabos, but well worth the journey if you are exploring other areas north of Los Cabos.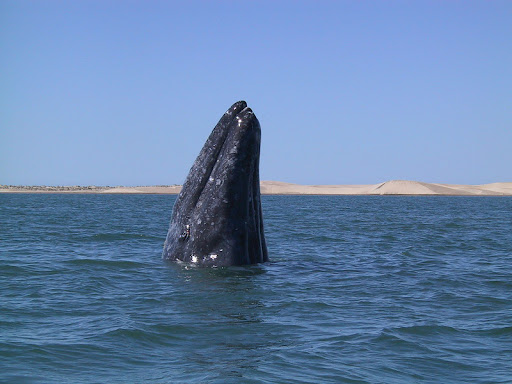 A gray whale in Magdelena Bay (Source | License)
9. Go Back in Time in Cataviña, Baja California Sur
Cataviña, nestled in the heart of Baja California Sur's desert region, is a paradise for nature lovers and rock formations enthusiasts. Revel in the otherworldly landscapes of the El Rosario Desert, characterized by towering cacti, unique geological formations, and ancient cave paintings.
Cataviña is a perfect destination for hiking, camping, and stargazing, offering a serene and off-the-beaten-path experience.
10. Explore the Hidden Fox Canyon, Baja California Sur
Just 50 miles north of Cabo San Lucas, intrepid adventurers can explore the Sierra de La Laguna Biosphere Reserve and all the treasures hidden within it. Here, the landscape changes from a breezy beach town to an arid desert, complete with its own ecosystem amongst the rocks.
Discover this scenic oasis on a Cabo Hiking Tour in Fox Canyon. After your uphill hike, you will be rewarded with a spectacular waterfall to cool off in. En route, there is a beautiful river, freshwater pools, and natural water slides — perfect to rehydrate in!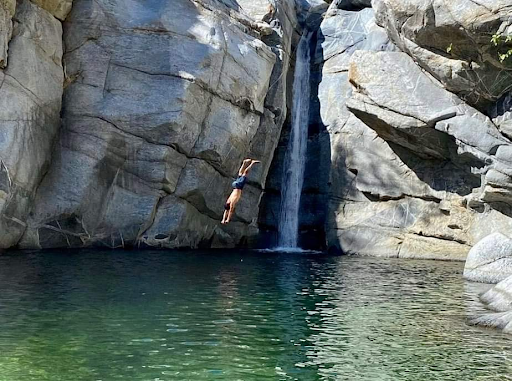 How many of these places will you tick off your Baja California Sur bucket list? And how many more will you discover? While these are only a few of the beautiful destinations you can discover in this state, there are many more waiting for you to visit.
If your heart is set on Los Cabos, get in touch with our team of local tour guides. Whether you want to take to the waves and surf or relax on land, take a look at our guide to planning a trip to Los Cabos. Until next time, enjoy your virtual adventures!